Does anyone else out there have the impression that the majority of "bloggers" are women? I'm not sure whether that is true, or if that is just true of the types of blogs that I tend to find and follow. There are probably lots of sports blogs and car blogs out there - but I feel like that is just a different genre. For me - blogging is an opportunity for women to meet and become friends with other women. I think that is a weird concept for my husband to understand. But he is usually willing to indulge me and participate when asked. So - here's your chance to get to know my other half a little bit better.
1. Describe yourself in 5 words.
Optimistic, fun, caring, complicated and realistic.
2. What is your biggest fear?
Having Kaeley pass away before I do, because I don't want to ever live without her.
*Note: It took DAYS, and lots of sarcasm, to get an answer on this one. But he swears his answer is sincere . . .*
3. What is your favorite candy?
Butterfinger
4. What was the best Halloween costume you've ever worn?
Chris Farley from Tommy Boy
5. Who is your favorite football team?
"I don't really have one, but I enjoy watching the Seahawks because they are exciting to watch right now."
Linking up with Mal and Stephanie for the October installment of Boys Behind the Blog.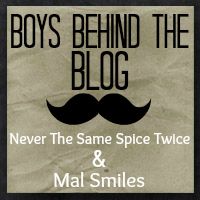 ~~~~~~~~~~~~~~~~~~~~~~~~~~~~~~~~~~~~~~~~~~~~~~~~~~~~~~~~~~~~~~~~~~~~~~~~~~~~~~~~~~~~~~~~~~~~~~~~~~~~~~~~~


A few weeks ago, I signed up for the Bigs & Littles Blogging Network. When looking at my own blog and comparing it to other blogs that I follow, I don't consider My Mind's Lens to be a "big" blog. So....I was surprised when the match-up list came out earlier this week and I was listed as a "big"! While I was looking forward to getting a little advice, I am excited about getting to know Miss Rychelle, offering her what I can, and helping promote her blog, Foltz Family Life.


To get started, here is Rychelle to introduce herself:


Hi Y'all. My name is Rychelle and I blog over at Foltz Family Life. Most of my blog revolves around our cute, active, and sweet little peanut Paisley Grace and being a new Momma. We are always on the go, and always ready for a good time. I hope that you will stop by and share in a part of our crazy world.
Follow Foltz Family Life via
Facebook | Instagram | Pinterest